Win more business by getting face to face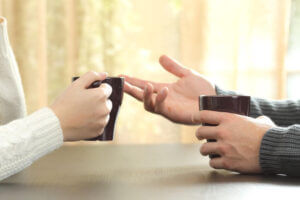 Each of us now has access to a myriad of tech and often rely on it to build contact and customer relationships. And yet more and more customer experience and networking surveys tend to conclude that it's the positive face-to-face and personal contact that is more memorable and builds loyalty and goodwill.
Hiding behind technology
Technology makes things easy for us. That's why we love it and often hide behind it. We can send out messages whenever we like and at a time that suits us. In doing so, we hope that the customer will access our communications at a time suitable to them.
It all sounds so customer friendly unless that customer is experiencing information overload. When they are swamped with numerous emails, e-bulletins, texts, voicemails which ones do they prioritise? Which ones will they respond to? Probably the ones from the people they know; the people whose face they can put a name to.
It's interesting to note that, in a study by Oxford Economics, the research found that in-person meetings were 85% more effective than a virtual meeting.
Customers craving human interaction
Whilst technology is important in the relationship-building process, it can't be relied upon exclusively to win and retain a customer relationship. You still need a degree of human interaction – phone conversations (not voicemail tag), video conferencing, Skype calls and particularly meetings. This is especially true if your service or product represents an important investment to the customer.
Also, you need to be sure how much of a fan a customer is with the different technological channels you are using. Are they swamped with email and hate it, do they prefer the phone instead? Find this information out and you'll impress and build competitive advantage.
Getting in front of customers
So here are some thoughts on how to get more face to face contact with potential and existing customers this year.  Which can you build into your approach to strengthen your business relationships?
Ring and invite the customer for a catch-up – have some ideas to share with them so they feel it's a valuable session. Perhaps you have a business opportunity to pass their way? Perhaps it's just been a while and you would welcome an update on how things have been going for them so you can offer greater help?
Send them a piece of research or insight, ideally produced by your organisation and then offer to sit down with them to explain the implications for their business. You'll find you get a really good response if the research benchmarks them against a competitor or discusses a trend in their industry.
Go and network and make sure you follow up all the contacts you make – ideally arranging another time to get together as part of your discussion with them.
Call in favours from the people in your network to broker introductions to a specific customer and perhaps suggest that you all meet initially over a lunch or coffee. Make sure you have got favours to call in though and, if not, build them up. You'll need to give in order to get.
Create an event, taster session, seminar or workshop around your product/service and invite the customer to take part. The more relevant and valuable they'll feel it is to them, the greater your chances of them attending. Make sure whatever type of event you go for, you get some one-to-one time with the customer and build in a follow-up session through your conversation.
Create opportunities to introduce different contacts and clients to each other in a face-to-face environment – such as the events we mentioned in the earlier bullet.  Ensure those contacts have the potential to be valuable or benefit each other.  Your action will be received positively and remembered by all concerned.  They may even return the favour at some point in the future.
For more advice on marketing and business development in 2018 contact us or tel. 01483 429111.
Further reading:
The Immeasurable Importance of Face-To-Face Meetings
15 Surprising Stats on Networking and Face-to-Face Communication